I have been outspoken in my defense and praise of Indian automobiles. Several articles on this blog have praised the Indian companies Tata and Mahindra. I have claimed that Indian cars are a very good fit for Philippine roads. Specifically, I wrote:
"On toughness and durability, Indian roads are some of the worst in the world. I bet their traffic is horrible, the roads are in disrepair. Their cars have to face extremes of heat and cold, they have to be able to climb steep mountain passes and navigate a maze of urban slums. An Indian car has to be tough to go through that and simple--you can fix it "with a brick and a piece of string" and a hammer.


x x x

Furthermore, China does not really use diesel engines in their cars (trucks like the Foton Blizzard and the JBC are exceptions), but the Indians love diesel…"
When a PNP acquisition of Mahindra Patrol Cars came under fire from Senator Grace Poe back in 2014 for supposedly being overpriced and anomalous, I immediately jumped to their defense saying:
"[T]he major concern with people is that Mahindra is an untested brand. It has no track record in the Philippines and that it is likely to cost longer in the long run.

There is fear that a Mahindra would not last in PNP service. I beg to differ. Mahindra has been making military vehicles for a long time. The Indians have been using Mahindras for the police … they should be ideal cars for our PNP."
So now, during this week's ASEAN and related Summits, we finally have affirmation from the President himself. Earlier this week, November 13, 2017, he met with the Indian Prime Minister Narendra Modi and he allegedly told him:
"The (Philippine) National Police is using Mahindra. It's one that's being used and there are a lot of them. I think there are almost 1,000 new (vehicles) and it's good. It's being used now. They are outside, they are guarding this place"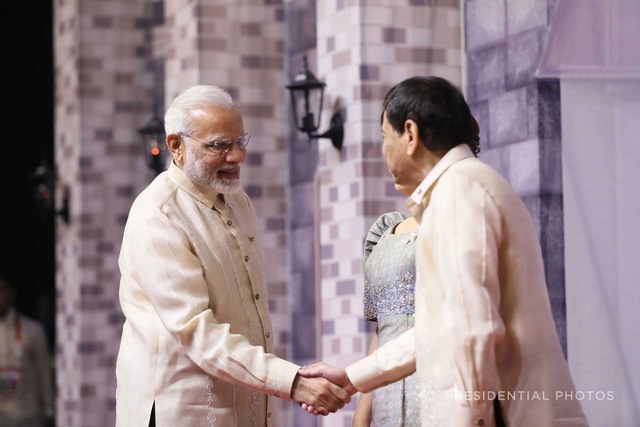 President Duterte and Indian Prime Minister Narendra Modi (source: Rappler)
So I now feel fully vindicated in my defense of this brand. Not only are the PNP satisfied with the longevity of these vehicles, some of which have been continuously on the road since 2014, but whose reliability has caught the attention of the President himself and had done its job of guarding foreign dignitaries attending the ASEAN and related summits without incident.
So the question remains: Will this finally cement the reputation of Mahindra as a reputable brand of tough and rugged vehicles? That remains to be seen.